Roman Emperors Dirde Imperatoribus Romanis Roman History Roman Roman Empire Imperator Basileus De Imperatoribus Romanis Encyclopedia Byzantine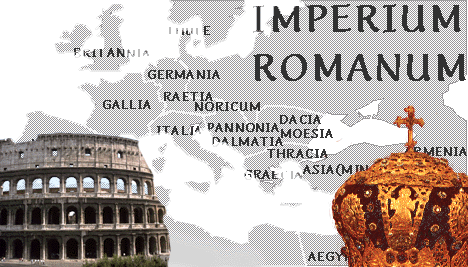 ---
Pull-down menus in frames: vertical click here; horizontal click here; full scrolling menu click here;scroll down the page for non-frames access.
---
Welcome to De Imperatoribus Romanis ("On the Roman Emperors")!
---
WHAT IS DIR?
DIR is an on-line encyclopedia on the rulers of the Roman empire from Augustus (27 BC-AD 14) to Constantine XI Palaeologus (1449-1453). The encyclopedia consists of (1) an index of all the emperors who ruled during the empire's 1500 years, (2) a growing number of biographical essays on the individual emperors, (3) family trees ("stemmata") of important imperial dynasties, (4) an index of significant battles in the empire's history, (5) a growing number of capsule descriptions and maps of these battles, and (6) maps of the empire at different times. Wherever possible, these materials are cross-referenced by live links.
These contents are supplemented by an ancient and medieval atlas, a link to a virtual catalog of Roman coins, and other recommended links to related sites. The contents of DIR have been prepared by scholars but are meant to be accessible to non-specialists as well. They have been peer-reviewed for quality and accuracy before publication on this site.
WAYS TO USE DIR
Go to the Recommended Links Page for other on-line resources relating to the Roman Empire.
Go to the DIR Historical Source Index for other on-line primary sources relating to the Roman Empire and its rulers.
---
Go to the Ancient Studies -- New Technology page for the program and all registration material for the up-coming conference Ancient Studies -- New Technology: The World Wide Web and Scholarly Research, Communication, and Publication in Ancient, Byzantine, and Medieval Studies, which will be held at Salve Regina University on 8-10 December 2000. The conference is sponsored by the Philosophy Department at SRU, the DIR, Stoa, and the Perseus Project.
HOW YOU CAN BECOME INVOLVED WITH DIR
The on-going work of building, expanding, and improving DIR is collaborative; the members of the DIR Collegium Editorum are happy to receive suggestions for additions and changes, as well as submissions of biographical essays and battle descriptions for consideration for publication (after peer-review). Instructions for submissions are available. See a list of pending essays for a list of those essays which are currently in process.
If you have a special interest, please email us at Roman Emperor Site or contact Richard D. Weigel with your email address and topics of interest to you. We will make every effort to notify you personally when additions or changes are made to DIR that might be of interest to you.
---
Please note that this site is in the initial stages of construction. System Administrator is G. Ginty of Salve Regina University. Facilities are provided by Academic Computer Services of Salve Regina University. Perl/CGI scripts implemented by Joseph Leichter of Brown University
Direct all queries and suggestions to Richard D. Weigel with a subject line of:
attention: DIR
---
Note: All line drawings of Roman coins for emperors before the fall of Rome in 476 A.D. are reprinted from H. Cohen, Description historique des monnaies frappées sous l'Empire romain, Paris, 1880-1892.
Note: All photographs of Roman coins and statuary of emperors before the fall of Rome in 476 A.D., unless otherwise noted, are reproduced from Justin Paola's Collection of Roman Emperors.